Personal, Social, Health, Relationships and Sex Education
An introduction to RSE and PSHE at Carlton Road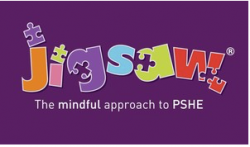 RSE (relationships and sex Education) and PSHE (personal, social and health education) are fundamental subjects in our curriculum. At Carlton Road Academy we have implemented a whole-school, creative programme to enhance our children's learning in PSHE (Personal, Social and Health Education) lessons. The programme – Jigsaw: A mindful approach to PSHE – has been written by teachers and a psychotherapist and substantiated in reliable psychology, offers a comprehensive, nurturing scheme in developing our children into compassionate and well-rounded human beings as well as building their capacity to learn.
This engaging, inclusive programme has six key areas which children will progress through building on key skill, knowledge and understanding. These six areas are: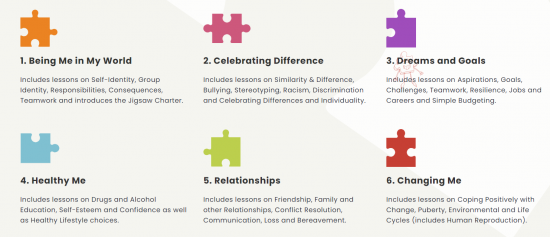 Relationships and Health Education
The Changing Me Puzzle includes, in every year group, 2 or 3 lessons to help children understand the changes puberty brings and how human reproduction happens. There is a very serious safeguarding aspect to this work and obviously the younger year groups are not looking at these issues directly and explicitly but rather learning correct terminology for body parts and doing the foundation work for later year groups. The Years 5 and 6 lessons look more fully at puberty and human reproduction.
We hope you will agree with us that this work is vitally important for children, that it needs to be done age-appropriately and that the Jigsaw Programme gives us a secure framework in which to do this.

Parents' Views and Consultation
The government made Relationships Education and Health Education statutory for all primary schools from September 2020 – guidance can be viewed here: Relationships_Education_RSE_and_Health_Education
Parents do have the legal right to withdraw their children from some aspects of this work.
We value this opportunity to share the curriculum we intend to teach the children, why we feel this is so important, and the aspects parents have the right to withdraw their children from – all of which can be seen on the Academy's website.
If after viewing the materials, you have any questions please do not hesitate to contact the school addressing any queries to Mrs Kirsty Deamer – Assistant Head teacher. Parental contributions to this consultation and the school's practice are always valued and may contribute to our practice in school.
We hope you, like us, will see the materials in Jigsaw as educationally sound and beneficial to our children, helping to safeguard them, and look forward to any feedback you would like to share with us.