Curriculum Ethos

The Context of our School and its Curriculum
Carlton Road Academy is a two-form entry school with our own attached Nursery based in Boston, Lincolnshire. We are proud to serve the local community. While promoting British values in school we also celebrate the range of cultures and languages our children share. As a result it is key that our approach to teaching and learning is accessible to all pupils regardless of their background. Our ethos "Aspire to Achieve" is embedded throughout the school, it's curriculum and our knowledge expectations – we expect our children to "Aim High" and "Dream Big".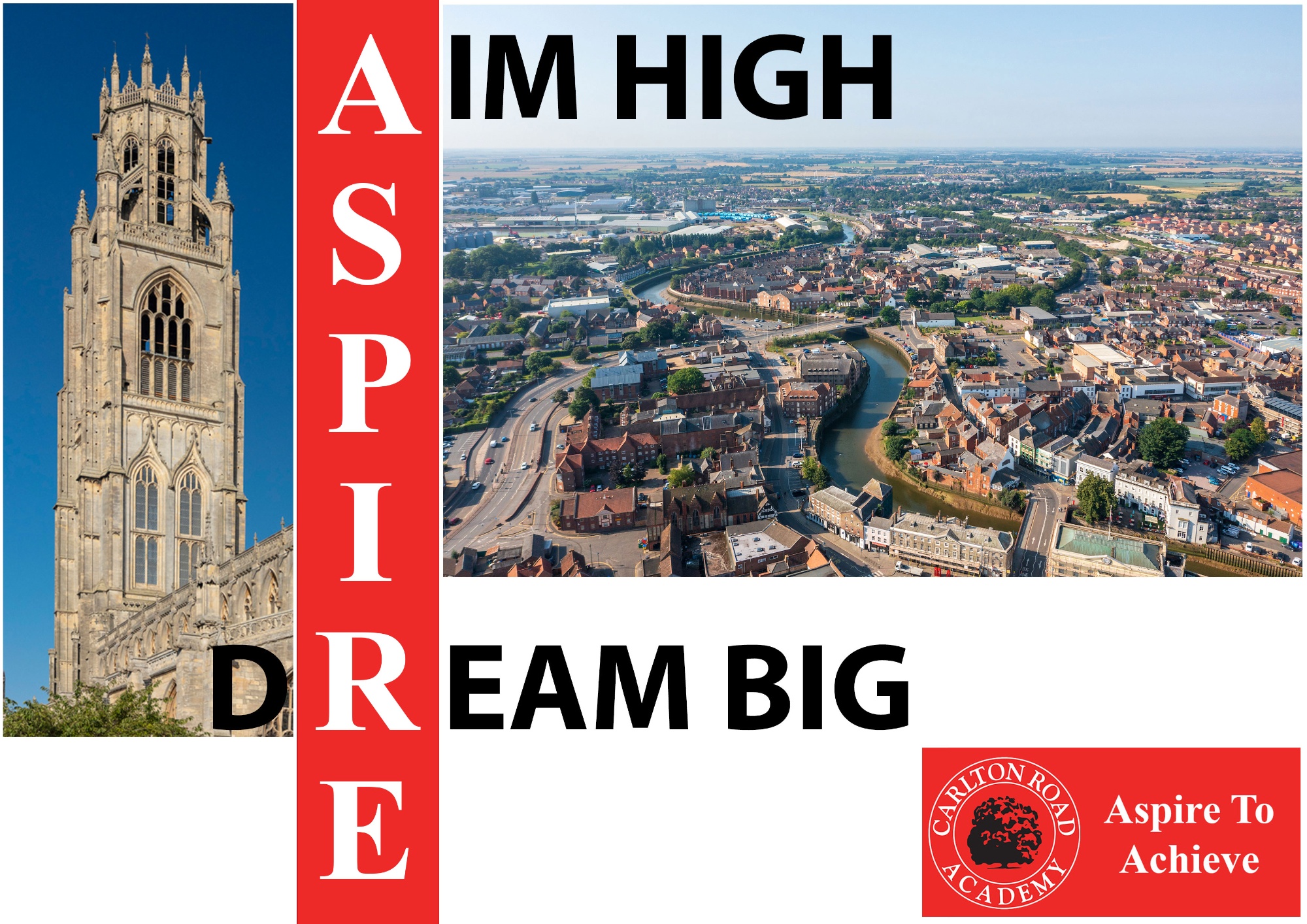 The following web pages will give you a good deal of information about what we teach, how, and why. Should you require any further detail please provide the school office with your enquiry and we will forward it to the staff member best suited to assist you.
Our curriculum brings to life the school's ethos and values. It embraces the whole child and their success in education – both academic ambition, practical skills, and social achievements. At the same time, we expect the children to be proudly responsible of and for their own efforts, making their individual contribution to the shared and democratic learning experience at Carlton Road.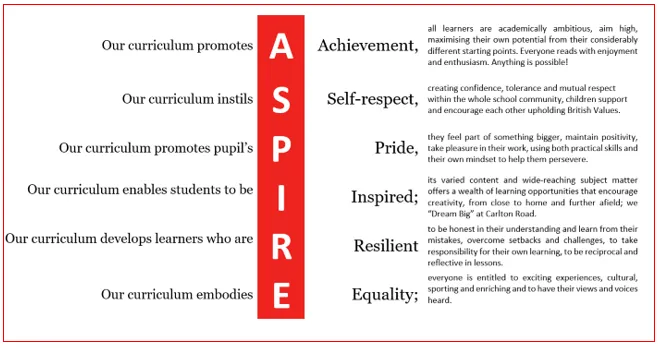 Teaching and learning turns "thinking" (the task of the working memory) into "knowledge" (what is retained in our long-term memories) that can be recalled and used again and again. In this way the more knowledge children have, the more joined up it is, the more can be gained. Our children need to acquire a range of types of knowledge, subject leaders plan for the acquisition of different types as they implement their curriculum objectives.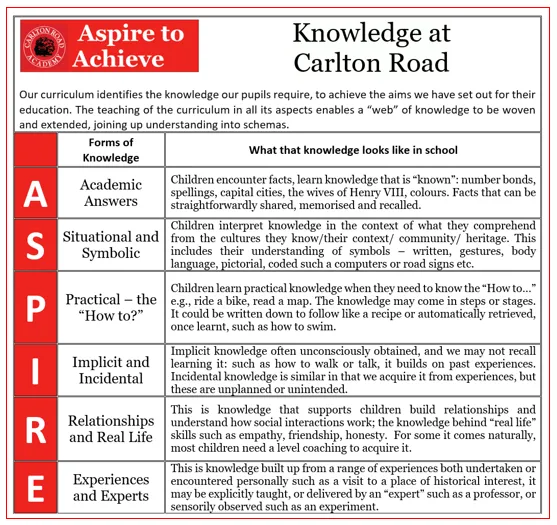 How our children acquire their knowledge:
Our curriculum delivers a range of learning experiences – shared in many ways, but all aimed to give the children the knowledge they need to succeed, both here and now and in the future. Teaching prompts children's thinking, this is their working memory (WM) Processing what is being learnt, with strategies to focus children's attention is key to their working memory's success. For this thinking to become knowledge, it must pass to the child's long-term memory (LTM), this needs further teaching techniques. Documented below are the strategies we use to start our children's thinking processes which in due course changes thoughts into knowledge which can then be recalled and used to enable more thinking to take place, thereby creating more knowledge.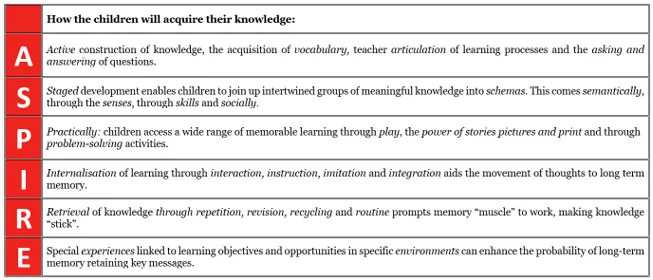 This acquisition of knowledge has similarities and differences across the range of subjects we teach and how the children learn at Carlton Road.
To follow you will find what this looks like in the different areas of our curriculum.
This can be seen in our:
Subject Policies which define the intent, implementation and impact for each subject in our school. They also cover the content and assessment strategies for each subject. These documents have their own webpage, "Curriculum Intent".
Progression Maps which show how learning builds year by year in each subject; these give teachers the opportunity to see what learning has gone before and what will come next so they can accurately pitch learning in their class and back fill any missing knowledge if it becomes apparent that gaps exist. You can read these on our "Curriculum Content" page.
Curriculum map, what is learnt in that subject term by term, year by year, which can be found on our "Curriculum Content" page.
Knowledge Organisers
Knowledge Organisers are used to pull together the range of knowledge and understanding we want the children to acquire as a topic is taught. Below you will find some examples from this academic year.